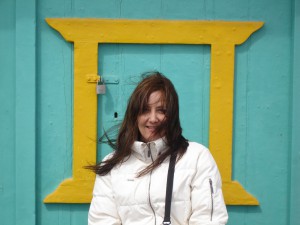 Polina Simou studied German Literature and Philosophy in the University of Athens. Painting and Art History was a passion from a very early age; therefore she attended several Art lessons in Painters Atelier and Museums. From 2013 to 2016, she was a research associate in the field of BioArt, in the Department of Audio and Visual Arts in the Ionian University (Corfu-Greece), cooperating with the Bioinformatics and Human Electrophysiology Laboratory on BioArt creations merging Painting and Science.
From 2016 till nowadays she corporates as an independent artist, with the newly established Novel Global Community Education Foundation (Sydney-Australia) in the field of Artistomics. Her academic and artistic interests mainly are focused on the diffusion, the ethical and the philosophical aspects of Bioart as well as the most known Biotechnological issues like genetic engineering, hybrid organisms, clones, semi-living organisms, stem cells, quantum mechanics, nanotechnology, brain interaction, Transhumanism and Neo-Humanity and their representation through Art. In her latest artworks (oil on canvas), she converges Art with emergent scientific achievements like the quantum theory or the neurobiology.
According to her artistic point of view, philosophical enquiry and personal experiences can be occasionally expressed through the artistic material on canvas. Human noble or dark emotions, the convergence of biotechnology with the human nature in the upcoming era of Posthumanism, the four elements, the role of sub-cellular reactions in human body and a long list of inapplicable humanitarian ideas are presented in her latest oil paintings, attempting to emerge the interaction between art, science and philosophy in modern life. Science is coming to inspire Art, to stimulate new ideas and techniques, to establish new opportunities and to endlessly exchange materials in order to be more understandable and representative of the human existence.
Polina's biography is included in the 33rd Marquis Who's Who International Edition, 2016.
Art Publications in You Are Here Magazine
'THE KASTRO OF SIFNOS: AN ETERNAL IMPRINT', You Are Here Magazine, pp. 58-66, 2019
'STAIRWAYS ON EARTH, STAIRWAYS TO HEAVEN', You Are Here Magazine, pp. 62-68, 2018
'A SPLENDID, THREE-DIMENSIONAL WORLD: SIFNOS', You Are Here Magazine, pp. 71-76, 2017
Latest Individual Exhibitions
'Beyond the Vision', Painting Exhibition, Sifnos, 2017
'Quantum Painting… Travelling in the Future. The new Scientific era in paintings on canvas', Sifnos, 2016
 'Science in Art', Painting Exhibition, 1st World Congress on Geriatrics and Neurodegenerative Disease Research, Corfu, 2014
'BioArt in the New Quantum Universe', Painting Exhibition, 8th Annual Festival of Audiovisual Arts in the Ionian University, Corfu, 2014
Latest Group Exhibitions
London Art Biennale, UK, 2015
The 1st Italian Biennale of Creativity, Verona Italy, 2014
Chianciano Art Museum Biennale, Tuscany Italy (Leonardo Award 'Special Mention for Excellence'), 2013